Submitted by

admin

on Tue, 01/13/2015 - 19:31
TAWF series & LBH series
[Coupling Capacitors & Filter]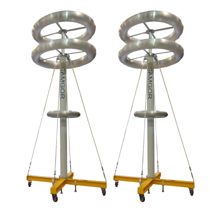 The coupling capacitors of the TAWF series consist of 1 or more modular units, built into glass fiber reinforced epoxy tubes. Their applications are:
◆Special design provides a base load for high voltage AC resonant test systems.
◆The separation of the partial discharge signal from the high voltage.
◆Measuring AC voltages in the industrial frequency range.
◆Attenuating interferences coming from the HV side
The standard base frame is fitted with castors for mobility (above 100 kV).
We can both produce the coupling capacitors indoor and outdoor use.
TYPE

Voltage

kV

Capacity

pF

PD Level

at Un

pC

Height H

mm

Diameter top

electrode D

mm

Base frame

dimension B

mm

Weight

Net, approx.

kg

TAWF2500-75

75

2500

≤2

1900

660

1200

110

TAWF1000-150

150

1000

≤2

1900

660

1200

100

TAWF1000-250

250

1000

≤2

2600

660

1500

160

TAWF1000-300

300

1000

≤2

2600

660

1500

180

TAWF1000-400

400

1000

≤2

4200

1600

1500

300

TAWF500-500

500

500

≤3

4600

1900

2100

490

TAWF1000-600

600

1000

≤3

5800

1900

2100

560

TAWF500-800

800

500

≤5

6000

1900

3100

600

TAWF1000-1000

1000

1000

≤5

6500

1900

4200

700

TAWF1000-1200

1200

1000

≤5

7200

1900

4200

900

TAWF1000-1600

1600

1000

≤5

9000

1900

5500

1100