Submitted by

admin

on Wed, 01/14/2015 - 13:19
RY2
[Precision Test Cell forSolid Insulant]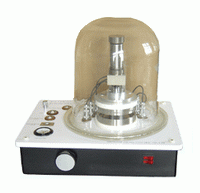 This precision test cell is used for dielectric tests, i.e. it determines dissipation factor tanδ and dielectric constant on test objects of solid insulants such as paper and plastic foils, as well as the specific resistivity.
The test cell is equipped with a special shielded measuring electrode (so-called guard ring), which eliminates the partial capacitances, which would influence the test results .This new design is the result of longstanding experience in the field of test cell building and customer feedback. To heat up and to evacuate the test cell, we recommend our temperature controller type RY2-1 and our reliable vacuum pump type RY2-2.
Advantages & Benefits
lThe test cell is in accordance with international standards and specifications.
lHeatable up to 200°C
lShort heat-up time
lThe measuring electrode can be removed from the test object while the bell jar is on the unit
lThe pressure acting against the test object can be adjusted from outside and monitored at any time
 

l

 

The test cell can be evacuated Measurements can be carried out under protective gas