Global Contacts
Head Office
India
South & North America
Middle East
Vietnam
News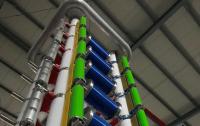 Samgor new structure impluse voltage test system has passed type test and start to mass production. In the furture, our IVG system delivery time can shorten to one week. Customers can finish the inspection and acceptance first and then place the orders. It will be a big revolution for testing...
Samgor Americas had the opportunity to be present at the INTERNATIONAL SEMINAR ON ELECTRICAL TESTS SISEE in Cali Colombia. Where Eng. Daniel Garza gave a technical talk on "Improvenments in pulse generators high voltage: high versatility and efficiency test"
SAMGOR Technology American office attended  FISE  that was held in the city of Medellin, Colombia during the 25th to 27th November.The Event was attended by more than 20,000 visitors and over 300 exhibitors from around the world. The convention center was divided into different halls, White hall,...
Event & Conference
05 23
2023 IEEE PES GTD
2023.05.23-25
Istanbul,Turkey
10 13
IEEE PES T&D Conference&Exposition
2020.10.13-15
Chicago,USA
10 8
EXPO 2020
2020.10.8-10
Mexico
04 16
2018 IEEE PES T&D
2018.04.16-19
Denver,USA
more